Right now, at 7:11 AM, I am sitting in my nice, dry, concrete house contemplating my day. My dog is crying because David just left for work. I was supposed to drive downtown with friends to do some Christmas shopping (family, you didn't read that), but that's not going to happen. The rain started yesterday and continued through the night from Hurricane Sandy, even though she's just skirting by us.
I have become a Twitter junkie, because information in Haiti is word-of-mouth and I don't have enough friends. Here's what I started to see: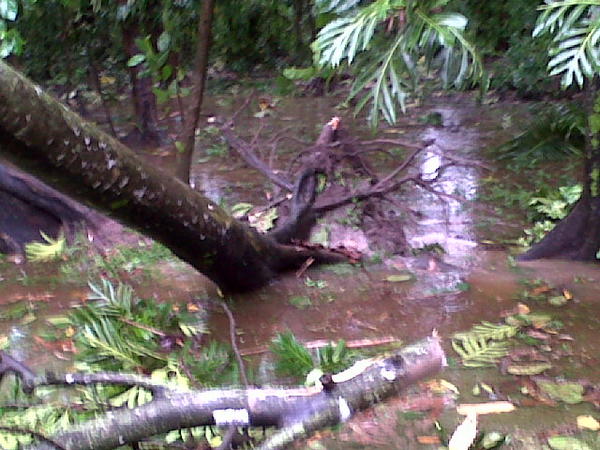 Flooding in Les Cayes, from the Twitter feed of @HopeforHaitiFL
Les Anglais, from the Facebook page of Shannon Kelley
The hospital in Les Cayes is flooded. Civil Protection is reporting the water almost 20 inches deep there (you can see more pictures from them
here
), but reports of flooding are coming from all over the south coast. Airlines are canceling flights. Schools are canceled all over Haiti so that people will stay home...but it appears that home might not really be the safest place, either. Looking for more, I Google "flooding in Haiti," and am rewarded with two articles from June 2011 and several about Tropical Storm Isaac from two months ago. I am disappointed.
My brain starts wandering toward work. My airplanes don't have much time left on them before their next inspection. If we need to do relief flights, should I cancel on the people who'd made reservations? If their international connections are being canceled anyway, does it matter? How many bridges are washed out? Is going by road even an option for people? Are the boats running to La Gonave? Hopefully they can shelter in place and ride it out.
Then I stop--that's not my job anymore. I left that job on Tuesday. A whole new kind of flood washes over me, one I haven't really processed yet. For a year, this would've been all the focus of my attention, trying to figure out how to reschedule flights and keep our commitments and answer panicked phone calls from passengers wanting to get out of Haiti. But today, that's someone else's job. And it's a flood of sudden sadness because my job mattered and it's a flood of pure relief because days like this were stressful. And it's a flood of hands-tied helplessness because all I can do is listen to the water pouring off my roof. And it's a flood of private joy because it means my son is coming soon, God willing. It's a bit messy, too.
Just now, it's light out, and I get up to turn off our security lights and see who my dogs were barking at. It's my neighbor, George, looking down into the ravine. He's got family and friends down there. He's on the phone. I bet a lot of people are on the phone today.
Just now, I consider deleting this post, because it really makes no sense. There's no thesis. There's no happy ending, no resolution. But that's sort of where I'm at, right now.